Who needs health & safety?
The simple flow chart on the right is one way of answering this question.
Companies with 5 or more employees are legally obliged to ensure they comply with health and safety regulation. The next section of this page has 10 questions aimed at the Company Board. And rather than yes or no questions these are designed to get you thinking about the way you manage health and safety today. The following section of this page deals specifically with the prosecution risk for Board Members and ends with the 10 questions you need to answer.
If a board member decides they are not comfortable with the answers provided then you probably need a professional health and safety consultant to carry out an audit and assessment of your company's health and safety arrangements.
Self-employed people who do not employ anybody themselves, and whose work does not put themselves or anybody else at risk, do not need to worry about health and safety legislation. As of October 1st 2015 health and safety legislation no longer applies to them.
For self-employed people or companies who employ less than 5 people the legislation calls for a risk assessment to be carried out. If you are an individuals or work for a company that falls under this group, you should download a risk assessment fact sheet and a risk assessment template, and use these to ensure you fully comply with health and safety legislation with no additional outside support.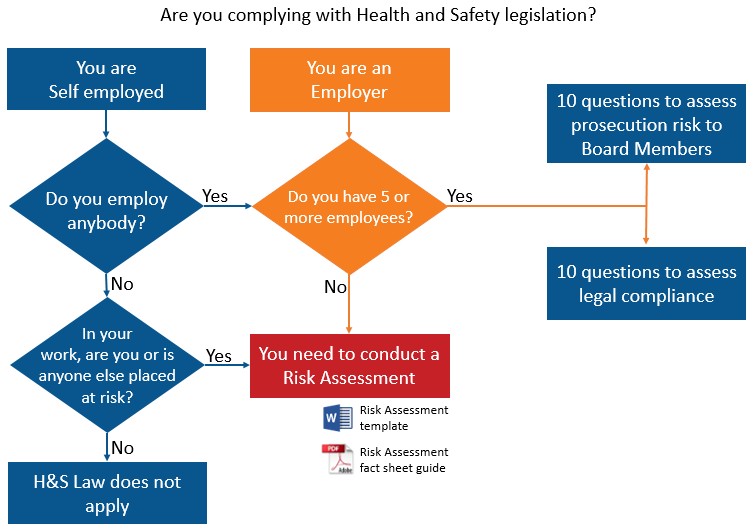 The Company Board is responsible for Health and Safety
If a health and safety offence is committed then individual board members (as well as the organisation) can be prosecuted under the Health and Safety at Work Act 1974.
Recent case law has confirmed that directors cannot avoid a charge of neglect by arranging their organisation's business so as to leave them ignorant of circumstances which would trigger their obligation to address health and safety breaches.
Those found guilty are liable for fines and, in some cases, imprisonment. In addition, the Company Directors Disqualification Act 1986 empowers the court to disqualify an individual convicted of an offence in connection with the management of a company. Including health and safety offences. This power is exercised at the discretion of the court; it requires no additional investigation or evidence.
Individual directors are also potentially liable for other related offences, such as the common law offence of gross negligence manslaughter. Under the common law, gross negligence manslaughter is proved when individual officers of a company (directors or business owners) by their own grossly negligent behaviour cause death. This offence is punishable by a maximum of life imprisonment.
10 questions for Your Company Board of Directors
The following ten questions will help a company board understand how well they are managing health and safety today:
How do you demonstrate the board's commitment to health and safety?
What do you do to ensure appropriate board level review of health and safety?
What have you done to ensure your organisation, at all levels including the board, receives competent health and safety advice?
How are you ensuring all staff – including the board – are sufficiently trained and competent in their health and safety responsibilities?
How confident are you that your workforce, particularly safety representatives, are consulted properly on health and safety matters, and that their concerns are reaching the appropriate level including, as necessary, the board?
What systems are in place to ensure your organisation's risks are assessed, and that sensible control measures are established and maintained?
How well do you know what is happening on the ground, and what audits or assessments are undertaken to inform you about what your organisation and contractors actually do?
What information does the board receive regularly about health and safety, e.g. performance data and reports on injuries and work related ill health?
What targets have you set to improve health and safety and do you benchmark your performance against others in your sector or beyond?
Where changes in working arrangements have significant implications for health and safety, how are these brought to the attention of the board?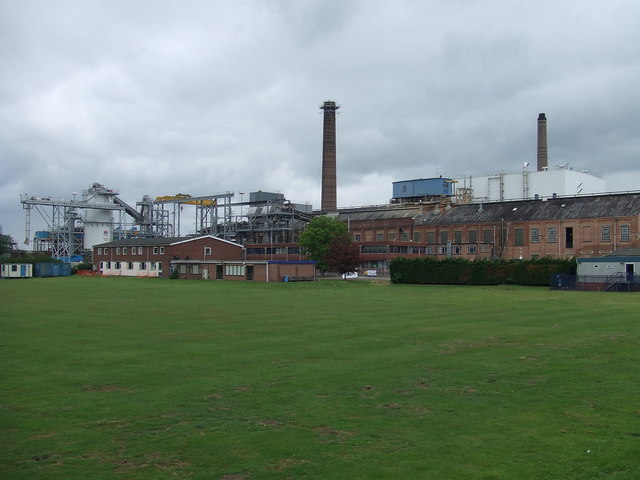 British Sugar case study
British Sugar was devastated in 2003, when three workers died. The business had always considered health and safety a key priority but realised a change in focus was needed. It carried out a comprehensive, boardroom led review of its health and safety arrangements. This included:
The chief executive assigning health and safety responsibilities to all directors
Monthly reports on health and safety going to the board
More effective working partnerships with employees, trade unions and others
Overseeing an audited behavioural change programme
Publishing annual health and safety targets and initiatives to meet them
Results included:
43% drop in time lost to injuries over two years;
63% reduction in major health and safety issues in one year;
Much greater understanding among directors of health and safety risks
Health and Safety – The day to day legal requirements
All organisations have management processes or arrangements to deal with payroll, personnel issues, finance and quality control – managing health and safety is no different. As indicated above ultimate responsibility for health and safety lies with the company board. So the first step is for the board to decide is who within their organisation is going to manage health and safety on a day to day basis. The Management of Health and Safety at Work Regulations 1999 require employers to put arrangements in place to control health and safety risks. As a minimum, a company should have the processes and procedures required to meet the legal requirements. If you have more than 5 employees, then answering the following 10 questions will help you determine whether you are complying with current legislation and what steps you need to take if you are not:
Day to day management of health and safety